19-07-2022
Danh mục: Góc Báo Chí
VPBank has partnered up with SmartPay and DMSpro JSC on July 7 to provide practical financial solutions to address urgent needs of small and medium-sized enterprises (SME).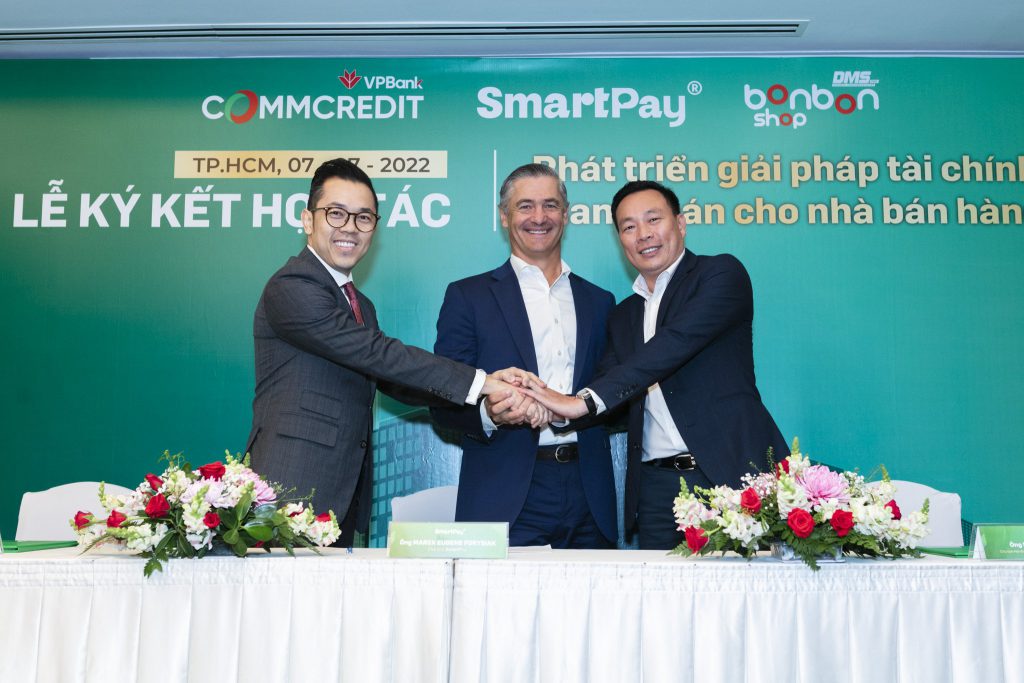 On the back of this partnership, thousands of merchants using DMSpro's platform can easily access loans up to VND200 million ($8,700) to buy goods.
A report compiled by DHL Express shows that the world's business-to-business (B2B) e-commerce market is predicted to increase over 70 per cent, reaching $20.9 trillion in 2027.
Furthermore, DHL predicted that 80 per cent of transactions between distributors and business customers will be taken place on e-commerce platforms and other digital channels in 2025. This tendency is firmly established and expected to persist even after the pandemic.
The pandemic has overcome its peak but all merchants, especially SMEs, still face many difficulties in running their business.
Amid distributing interruption, unqualified goods, and increasing prices, working capital detention made them unable to react in time. This is when merchants need to immediately join the B2Be-commerce market to be more proactive in access to supplying sources and get benefits from financial solutions to optimise working capital.
Therefore, with this partnership, VPBank, SmartPay, and DMSpro expect to provide maximum support for customers of the ecosystem to have access to the most specialised and optimal financial products on the market.
With the need for fast capital turnover and optimised capital costs, merchants always look for the most comprehensive and advanced financial solutions.
With this in mind, VPBank Commcredit will provide merchants with flexible, fast, and barrier-free digital loan packages, contributing to the realisation of the statement of VPBank's mission for a prosperous Vietnam.
Phung Duy Khuong, vice general director of VPBank shared, "Since 2014, VPBank Commcredit has accompanied and supported more than 150,000 business households with credit packages and financial solutions. With more than 5 million small merchants in Vietnam, VPBank Commcredit wishes to cooperate with partners to accompany business households in accessing comprehensive financial solutions and moving towards financial prosperity. This cooperation is expected to help more and more merchants have the opportunity to access the optimal management solution from DMSpro, SmartPay's payment technology, and capital support packages with attractive interest rates and quick procedures from VPBank."
DMSpro is a dynamic enterprise in B2B e-commerce with a bonbon shop application developed since 2019 which supports tens of thousands of retail points directly connected to manufacturers.
With the cooperation with SmartPay and VPBank, DMSpro retailers will have the opportunity to receive financial support packages with attractive interest rates and quick procedures for quick capital turnover.
Owning a strong payment platform, in this trilateral cooperation, SmartPay also provides merchants a safe and extremely fast payment method using SmartPay e-wallet.
Marek Eugene Forysiak, president of SmartPay shared, "SmartPay thinks that the cooperation with VPBank and DMSpro will make a significant impact on the market and help them to untangle concerns about the capital as well as find a reliable supply platform. This will contribute significantly to SmartPay's goal of promoting and improving the quality of life of small and medium-sized merchants in Vietnam."
Pham Ngoc An, chairman of DMSpro added, "Bonbon shop is a solution connecting manufacturers and retailers. The cooperation of bonbon shop with SmartPay and VPBank will bring practical benefits to retailers and simplify payments between manufacturers and retailers. In addition,retailers also can rotate capital to buy goods from manufacturers. Therefore, DMSpro emphasises that retail points won't be left behind after using bonbon shop."